Good morning, good afternoon, or perhaps goodnight,
Last summer Mrs. Goat got me a Phantom 4 as an early Christmas present. She wanted me to have the time to learn to fly it before winter set in.
The first subject that I really tried to capture was Houston Brook Falls. I honestly wasn't a confident pilot nor was I a confident aerial videographer. As I had never shot and edited any aerial video I didn't know what my actions while in flight would look like on film.
A got a few good flights in with the Phantom and really started to learn the craft. The one major issue I had with the Phantom was the bulk of the kit. Here is a picture of the Phantom and controller in the case that ships with the device. (Check out the phone for a scale reference.)
The bulk of the system made it difficult getting it into the backcountry. It wasn't an insurmountable obstacle but it made the affair less fun and much more tedious.
Not long after we purchased the Phantom, DJI announced a new flying camera called the Mavic. This was their uber small and uber portable flying camera. The same day as the press release for the Mavic we sold the Phantom in anticipation of picking up a Mavic. See the size of the Mavic below. Not only is is very small, but, the arms fold down on itself making it incredibly compact for hoofin' through the forest.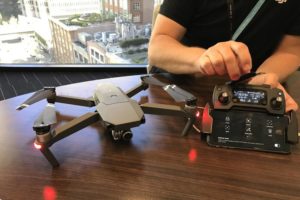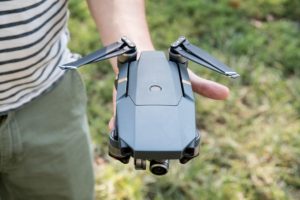 However, the Mavic was plagued by long delays and it was a few months before we were able to pick one up.
It seemed fitting that the first proper video with the Mavic was at Houston Brook Falls.
It was a gorgeous Saturday afternoon with Mrs. Goat and Kid Goat. It was the first flight of the Mavic and the first time this winter we'd all gotten out on the snowshoes. We even managed to take Dog Goat (Billy, our dog) out for the day for some tromping through the woods. All in all we had a great time and we really hope you enjoy the video.
FatherGoat